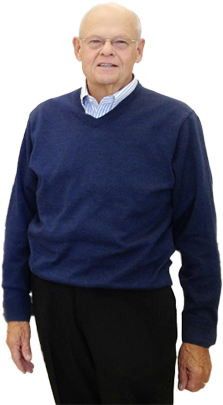 Tim Maguire grew up in a small, rural town in Upstate New York, where he nurtured a love for all things mechanical—especially automobiles—from an early age. He paid $25 for his first car (a red 1949 Dodge with no brakes!) at 14 years old.

Yes, he drove that car straight through the barn doors at home. After he and his father fixed up the vehicle and its brakes (and the barn doors too), he sold it for $100—a profit!

That was the beginning of his automotive career, a journey that took him to Ford Motor Company in Dearborn, Michigan, then to the Southern United States, and eventually, back to New York where he and his wife Fran grew up, opening their first dealership.

With help from his son, Phil Maguire, Tim has grown the Maguire Family of Dealerships into: 13 dealerships selling 19 car brands all over Central New York! On behalf of Tim Maguire and the entire Maguire dealership family, thank you for your business.
"My goal has been to be more than a successful dealer. I hope that our organization can have a positive influence not only on our employee partners but the entire community in which we live and work."

Where We Started
A Ford dealership in the Finger Lakes… We got our start in small-town Trumansburg, NY, where Tim opened his first dealership just 20 miles from his hometown.
When We Started
It was way back in 1977, the year the Great Lakes Blizzard hit Western New York. After lending his talents for nearly a decade to the prestigious Ford Motor Company, Tim found himself back in his home state. He and his wife Fran decided to take a chance at opening a dealership, and they we're so glad they did.
Our Core Values
We promise up-front pricing on every vehicle (no haggling, bargaining, or surprises), and we'll beat any price in Upstate New York. We really care about your experience. If it's anything other than perfect, call Tim or his son, Phil, at home on their personal phones or at the office!
We're Family Owned
Tim created the Maguire Family Assurance. If you have a major lifestyle change within the first year of ownership, Maguire will buy back your vehicle. Owe more than the value of the vehicle? We'll cover the difference up to $6,000. We take care of our family!
We Serve Our Community
Tim and the Maguire Family team stress the importance of giving back. In the spirit of giving, our Community Oil Change program donates 10% of the proceeds of every oil change to a charity and community fund. This helps support our local community organizations.
Recipients have included:

Cancer Resource Center of the Finger Lakes (Ithaca)
Unity House of Cayuga County (Auburn)
Hangar Theatre (Ithaca)
Our Family of Dealerships
Maguire Ford Ithaca
Austin Foote
Maguire Chrysler Dodge Jeep Ram Syracuse
Nayel Ashkar
Maguire Chevrolet Baldwinsville
Thomas Portaleos
Maguire Nissan Ithaca
Rick Russo
Maguire Honda Ithaca
Dave Lormand
Maguire Volvo Cars of Ithaca
Bill Hamelin
Maguire Credit / Maguire Resale
Marcus Crandall
Maguire Lincoln Ithaca
Austin Foote
Maguire Chrysler Dodge Jeep Ram Watkins Glen
Ukiah Kraus
Maguire Chevrolet Trumansburg
Austin Foote
Maguire Nissan Syracuse
Brandon Wickham
Maguire Hyundai Ithaca
Bobby Hobbs
Audi Ithaca
Bill Hamelin
Genesis Ithaca
Bobby Hobbs
Maguire Chrysler Dodge Jeep Ram Fiat Ithaca
Ukiah Kraus
Maguire Chevrolet Cadillac Ithaca
Rick Russo
Maguire Toyota Ithaca
Bill Hamelin
Maguire Subaru Ithaca
Bobby Hobbs
Maguire Kia Ithaca
Bill Hamelin
Maguire Volkswagen Ithaca
Bill Hamelin