Wouldn't you love if there were an easy, trustworthy way to check tire tread depth? It's nice to know how much tread is left on the tires, because it lets you plan and prepare for when you may need new ones. When the rubber hits the road in Ithaca, Trumansburg, and Watkins Glen, your tires are doing the heavy lifting.
Thankfully, there is an easy way to check for tire tread depth. It's the penny test for tires, and it's something every Syracuse and Baldwinsville driver can do in a matter of minutes.
Tire Tread Test? Trust Honest Abe

Even the most meticulous of drivers can sometimes forget about their tires. You may keep up with an oil change, get a car wash, or vacuum the floor mats to ensure the interior is always looking fresh and clean. It's a good idea to pay attention to those tires, though.
Monitor tires once they reach 4/32. When they reach 3/32, that means the tires should be replaced soon. When the tread depth is down to 2/32, that means it's time to replace the tire.
There are a few ways to test tire tread depth, but the penny test is an easy way to do it. Put a penny in the tire tread groove with Abraham Lincoln's head upside down and looking at you. If you're able to see all of Lincoln's head, then that means it's time to replace the tires, as the tread depth is at 2/32 or lower.
Other Ways to Test Tire Tread Depth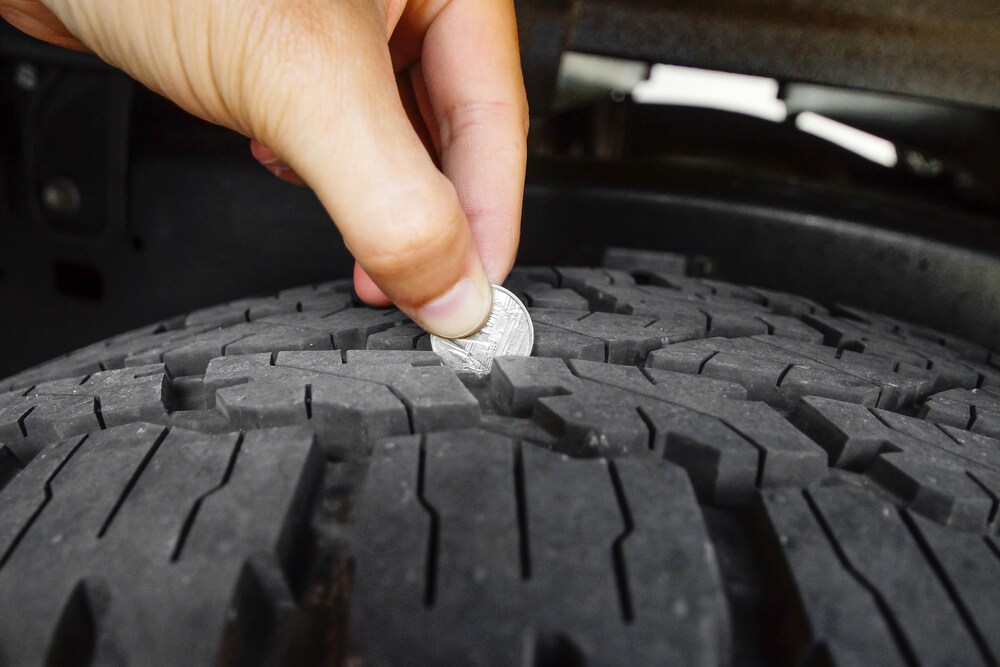 Don't have a penny on you at the moment? Well, if you have a quarter, not only are you richer than those with pennies, but you can still do the tire tread depth test. Put a quarter into the tread groove, and if the tread is touching George Washington's head, then that means there's at least 4/32 of tread left.
If you have no change on you, that's no problem. Tread depth can be checked with the treadwear indicator bar, which is molded into most tires. These bars can be found in the bottom of tread grooves in different spots around the tire. When these bars are flush with the adjacent ribs, the tire will need to be replaced.
Your Source for Tires
So, now that you've checked tread depth, it's possible that you're realizing that at least one tire needs to be changed. If that's the case, bring your vehicle to our service center. We have the best tire brands and we'll ensure they're the right fit for your car.
As time goes on, ensure preventative maintenance is being performed to take care of your tires. A tire rotation should be handled every 5,000 miles to ensure even wear and tear on the tires. If any tire is ever punctured or is leaking, we'll do our best to repair it and get your car back on the road.

Has Your Car Passed the Penny Test?
The valuable penny test is something every Ithaca, Trumansburg, and Watkins Glen driver should know about. If your car has passed the penny test, then you're in the clear.
If tread depth is looking low, then schedule a service center visit with us here at Maguire Dealerships. We'll have the new tires your car needs for every trip around Syracuse and Baldwinsville.