A thrilling drive awaits Ithaca, Trumansburg, and Watkins Glen drivers. Take the wheel of a used Dodge Charger, and you'll look at Syracuse and Baldwinsville drives in a whole new way. The Dodge Charger opens up a world of possibilities thanks to its horsepower capabilities.
The Charger is more than just a muscle car, though. Its sleek interior and muscular exterior design give it an air of confidence you'll feel every time you step up to it.
Driving the Dodge Charger
The Charger is known for a lot, but it always seems to come back to its efficient V6 power, all-wheel-drive capability, and high-performance comfort. It's road ready and fun to drive and is known as America's only 4-door muscle car.
While you'll enjoy muscle car capabilities, you don't have to deal with the 2-seater setup you'll find in essentially every other muscle car out on the road today. That means you and your friends can enjoy the Dodge Charger for a night out on the town.
The pre-owned 2018 Dodge Charger SRT Hellcat model delivers the power with a supercharged 6.2-liter engine generating 707 horsepower and 650 lb-ft of torque. With a range of V6 and V8 engines to choose from, there are many ways to enjoy the Charger driving experience.
As recently as the 2018 model year, the Charger lineup offers 10 different models, so there can be many ways to customize your ride. The Dodge Charger pre-owned inventory at our dealership is constantly being updated, too.
Financing a Pre-Owned Car

Of course, you're always welcome to pay for a vehicle in cash here at our dealership. However, you may be looking into financing when buying a used car. Our finance center is here to help you. Our knowledgeable financial professionals will answer any questions you might have about a used Dodge Charger loan.
Fill out the finance application here on our website. It's easy to do and can be completed at home. This application is completely free, too. While you're here, you can also apply for and secure an Allstate auto insurance policy to protect you and your vehicle. That's making the used-car buying process easy.
Feel Good When Buying Pre-Owned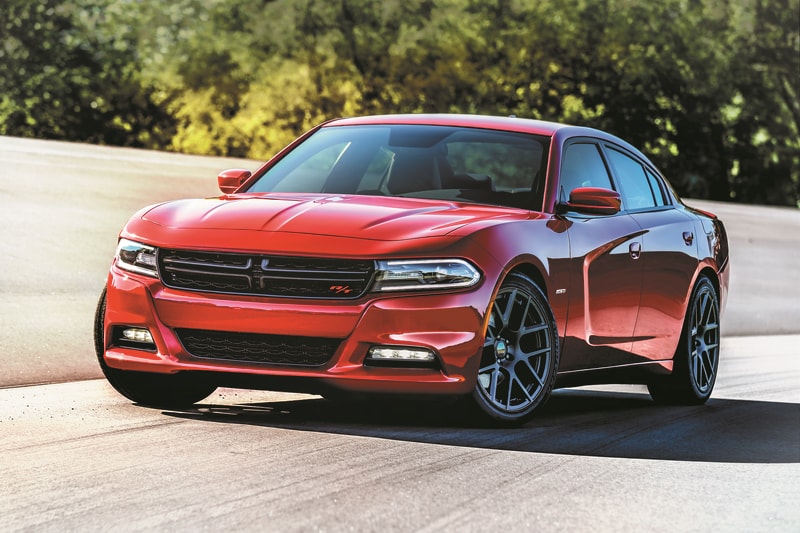 We want you to feel good about your pre-owned purchase, which is why we offer a 30-day exchange policy. With this policy, you can exchange your used Dodge Charger for another vehicle in our pre-owned inventory within 30 days or 1,000 miles, whichever comes first.
If you don't absolutely love the Dodge Charger you've selected from our inventory, then it's time to find a car you truly do love.
Ready to take the wheel? Schedule a test drive with our sales team today. We'll have the keys ready for you.
Show Off Your Muscle With the Dodge Charger
The Dodge Charger is a muscle car with quite the personality. Now, it's time for drivers near Ithaca, Trumansburg, and Watkins Glen to enjoy some of that muscle. At the Maguire Family of Dealerships, you'll find a number of used Dodge Charger models ready to take on the roads of Syracuse and Baldwinsville. Now, it's time to find your favorite.