When looking at the pre-owned Maguire Dealerships inventory, you'll see there are a wide range of vehicles Ithaca, Trumansburg, and Watkins Glen motorists can choose from. One of the most popular brands represented well in our inventory is Volkswagen.
Imagine being out on the open roads of Syracuse and Baldwinsville in a vehicle you love piloting each and every day. Whether it's the ride to work or a weekend adventure, you deserve to drive a car that matches your style and personality. Here are some of the top used Volkswagen options in our inventory.
If a compact car is what you're looking for, the VW Golf can make for a great choice. It's fun to drive, has plenty of room for passengers, and enough cargo space to transport people and things. You'll come to love the fact that it's fast off the starting line, and that it has available leather upholstery and heated front seats to keep you warm when the temperature drops.
This hatchback features 22.8 cu. ft. of cargo space behind the rear seats, and 52.7 cu. ft. with the seats folded down. That's competitive when compared to other vehicles in this class.
A 6.5-inch touchscreen is also standard, with smartphone compatibility standard. It takes just a quick swipe to connect your phone to the touchscreen for access to music, text messages, and third-party apps.
The VW Jetta is typically the most popular pre-owned car on our lot, and for good reason. It's fuel-efficient, smooth to drive, has an easy-to-understand infotainment system, and plenty of trunk space for a vehicle of this size.
The 147-horsepower turbocharged 4-cylinder engine is peppy and quick to accelerate, whether traveling on narrow city streets or the highway. The cabin has space for five people, with a spacious 14 cu. ft. trunk, enough room for luggage, groceries, or hiking gear for a weekend adventure.
New features have been added to the recent creation of the VW Jetta, including available leather upholstery, heated seats in the rear, and a heated steering wheel. All these convenience features help drivers feel at home on every trip.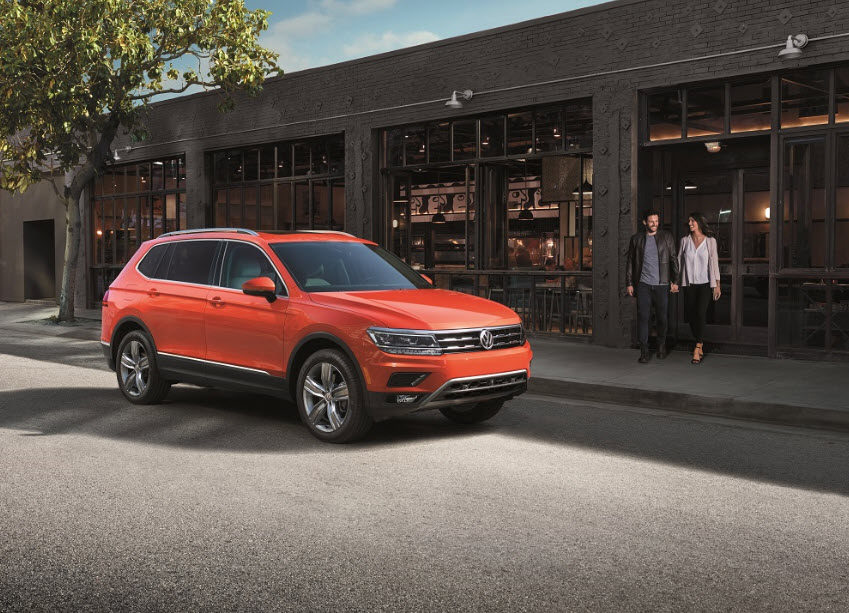 The VW Tiguan matches up well when compared to other compact SUVs. Its large cargo area, smooth ride, and space in the first two rows make it a welcoming vehicle. A front-wheel-drive VW Tiguan comes with seating for five, while all-wheel-drive models are offered in either a 5- or 7-seat setup.
The 2.0-liter engine in the VW Tiguan makes 184 horsepower and 221 lb-ft of torque, with an 8-speed automatic transmission coming standard.
With the rear seats folded down, you'll have up to 65.7 cu. ft. of cargo space in the 3-row model, and 73.5 cu. ft. in the 2-row. That leaves you with plenty of space to fit in groceries, luggage, hiking equipment, and the occasional piece of furniture.
Test Drive a Volkswagen Today
Regardless of the Volkswagen model you're intrigued by, visit Maguire Dealerships to get a feel for it via a test drive. You'll see how the car handles Ithaca, Trumansburg, and Watkins Glen, and have the chance to explore the interior, too.
Have a question for our sales team? We look forward to providing answers for Syracuse and Baldwinsville drivers.
Used Volkswagen Reviews: